Work is a family affair for the Rileys
Working at Mowi is a "family affair" for Andrew Riley and Ashley Riley.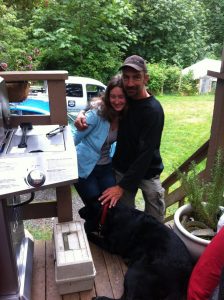 The father/daughter team works in different areas: Andrew as Fresh Water Fish Transport Manager out of the Campbell River office and Sayward fresh water hatcheries, while Ashley, recently graduated from North Island College with an Aquaculture Tech Diploma, works as a Fish Tech in the salt-water based Monday Rocks site at Quatsino.
While studying for her degree, Ashley learned about plankton identification, fish diseases, health and husbandry. As she grew up, the aquaculture business was very familiar to her, since her father worked in the industry.
"Dad used to bring us out to sea sites and we would feed the fish and watch the reaction," she recalls. "I really enjoy being in the outdoors and like to go fishing as well. I wasn't sure if I wanted to follow in his footsteps, but it just seemed like a good job to get into. I'm glad I've chosen this asmy profession."
Andrew, who has been with Mowi since 1994, says "I'm happy she works for us. At first, I was kind of laughing at the idea, of my daughter coming to work at the same place as her Dad. But I'm happy for her. She always liked fishing, and she still goes fishing with me a lot as well."
In 2018, Andrew moved into his current position that has him responsible from transferring fish from hatchery to sea, and from hatchery to hatchery, and he's seen plenty of change in the industry since he first started.
He started as a sea site tech in 1994 ,becoming an assistant manager 1 year later, then as sea site manager. He became Broodstock Manager 1999-2006 and worked all over from Kyoquot Sound on the West Coast of the Island, Campbell River, and as far north as Klemtu. Then after the merger with Stolt he took over as Assistant Manager for Fresh Water Transport. He took over management of this in March 2018
"Now, we are one of the most regulated industries and are monitored closely."
"The gains in technology have been unreal, and we're using underwater cameras to watch the fish feed, now, for example. There is much better housing now, safety is a main focus, and the industry has just become that more efficient."