Mowi Pens Manufactured By Local Firm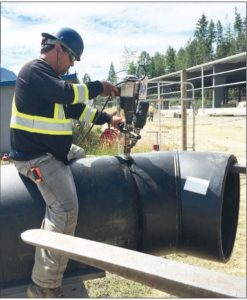 From Campbell River to Klemtu, every one of the Mowi Canada West net pens come from one place: Van Island Plastic Factory Ltd.
Owners Jason Bailey and Scott Winton and their team of employees manufacture the pens at their 3,000 square foot facility in Merville, on-site at the Campbell River Pulp Mill site, and, when necessary, on location.
Van Island Plastics Factory has built well over 200 net pens over the years – they've made 63 pens in the past three years at the Campbell River pulp mill alone.
"We build the cages there, and slide them into the ocean," Bailey says, adding they are then towed to their final destination at the farms.
Bailey explains they use polyethylene construction due to its durability and flexibility. For example, if underground PVC pipe cracks or breaks if the ground shifts or an earthquake occurs, polyethylene will flex and not break. Bailey notes that Mowi has high, strict standards for its fish pens. Once they reach their due date for maximum use, they are taken out of commission and cut up so they can't be re-used in the same form. The company has developed some of the strongest pens in all of North America for Mowi Canada West, and also worked on a plastic pen recycling project where 98% of the pen was recycled.
Bailey has been working with plastic for 25 years, and building pens for fish farms since 1999. Mowi Canada West is the company's primary customer, although they also do work for fishing and mining industry clients, and have plans to begin manufacturing polyethylene boats.
"We're 100 per cent mobile," says Bailey.
In 2009 they built the recirculation system at the Dalrymple hatchery in Sayward. In 2016, they worked on the refurbishment of the two hatcheries at Big Tree Creek and Dalrymple.
Since 2012, all of the workers with Van Island Plastic Factory are local, he says, adding they hire workers as needed in Port Hardy, Port McNeill and Campbell River. They have six employees, adding more for extra projects.
The company does stick, injection and extrusion welding. Equipment for their tasks is expensive, and can cost between $8,000 and $15,000 per piece.
"What we do is a very specialized trade, and our workers are very well trained. If you don't know what you're doing, you'll be in trouble," he says, adding he is a pure plastic welder, fabricator and pipe fusion technician.
"Mowi, through their use of best practice aquaculture techniques, has led local companies like Van Island Plastic Factory to invest and reinvest in the local North Island economy," he says.