Gold Standard Set For Fish Welfare
Veterinarian Terra MacDonald considers it gold.
Gold as in what is recognized as the gold standard for animal welfare, set by the World Organization for Animal Health, labeled "The Five Freedoms". These broad, all-encompassing guidelines developed to reflect an animals' state of well-being are what Mowi Canada West is committed to in all of its operations:
Freedom from hunger thirst and malnutrition;
Freedom from discomfort;
Freedom from pain, injury or disease;
Freedom from fear and distress;
Freedom to express normal behaviors.
"We address these five freedoms in various ways," says MacDonald. "We provide our fish with excellent nutrition, in carefully formulated fish feeds that are appropriate for each life stage, and that is fed out in such a way that all fish in a population have an opportunity to feed.
"By practicing careful handling techniques, using anesthesia when necessary, monitoring and mitigating environmental conditions and controlling water quality where possible, we aim to keep our fish free from discomfort."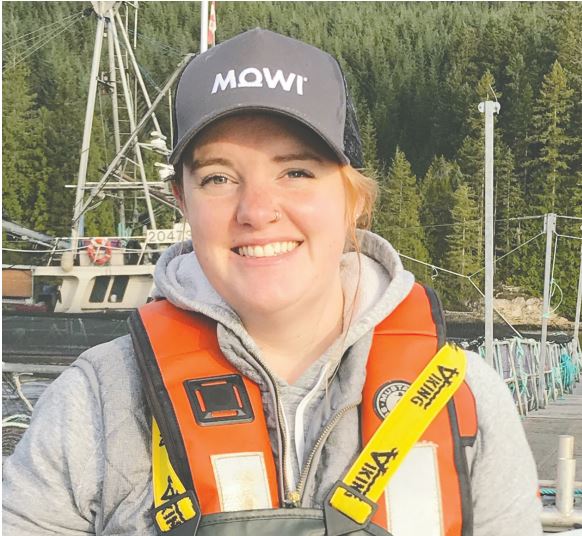 MacDonald says preventative vaccinations are used where possible, and appropriate medical treatment when necessary. Anesthesia is used while performing certain procedures, and humane euthanasia techniques and constant fish health monitoring are also part of freedom from discomfort, as well as freedom from pain, injury and disease.
"Protecting our fish from predators and ensuring all handling techniques are gentle, and humane as well as only handling when necessary and harvest techniques developed to minimize distress allow our fish freedom from fear and distress," she says. "Our low stocking densities in the cages – 97% water and only 3% fish – allow natural behaviors including schooling, movement throughout the water column, jumping – an Atlantic salmon behavior they do a lot – and feeding behaviors."
A Doctor of Veterinary Medicine, MacDonald recently joined Mowi Canada West, and says the veterinary oath she took when she completed her degree very much guides her actions on the job: "I will strive to promote animal health and welfare, relieve animal suffering, protect the health of the public and environment, and advance comparative medical knowledge."
MacDonald notes that focusing on animal welfare is an integral part of everything the company does with and for the fish.
"We have an ethical responsibility to ensure the welfare of the fish that we farm to the greatest extent possible, in all aspects of our business, from egg to harvest," she says. "It is seen as a long-term value driver and part of our commitment to the United Nations Sustainable Development Goals, specifically Goal 12 – Responsible consumption and production and Goal 14 – Life below water.
Mowi Canada West's official Salmon Welfare Policy is an integral part of the business. The Managing Directors and Management Team have responsibility for the policy, but the welfare of the fish is monitoring by trained staff and dedicated fish health professionals throughout the production cycle as part of their everyday activities.
"The welfare of fish is a relatively new concept, as only recently has it come in to focus on a national and global scale," she observes. "However, in aquaculture, we have long understood that there is a strong relationship between the health and welfare of our fish and quality and productivity, which of course has economic benefits.
Only recently has policy and regulation started to catch up and place standards around fish welfare, and recognize it as an important topic to be discussed along with any other animal, especially those used in production such as cows, chickens and many others. Fish, of course, have unique considerations that should be addressed and discussed separately from these other species."
The Canadian government continues its ongoing development of an Aquaculture Act that will better define the rules and requirements for aquaculture on a federal level, and will hopefully incorporate some standards regarding fish welfare. In the meantime, Mowi Canada West is ahead of the curve.
The company is committed to certify its farms with standards that include Best Aquaculture Practices (BAP) and the Aquaculture Stewardship Council (ASC), amongst others, which include several welfare aspects that include water quality, feed sources, health management, harvest and transport in their scope of accreditation.
"All daily activities, whether it is our fresh or saltwater operations, have fish welfare as a focus from ensuring environmental conditions are optimal to preventative health measures (vaccination, frequent monitoring and sampling) and when needed, responsible medical treatment," she states. "Our staff are trained in fish behavior, signs of disease, operational maintenance, water quality parameters and environmental mitigation strategies."
She adds they are also trained in proper handling techniques, as well as humane euthanasia when necessary and harvesting. Excellent record keeping is also an important aspect as it allows the team to make decisions and track trends to identify potential problems before they occur.
All treatments, preventative and those necessary due to disease, are prescribed by certified veterinarians and are strictly tracked and controlled.
"100 percent of our fish are vaccinated to reduce the risk of certain diseases which could compromise health and welfare," she notes. "We only use antibiotics when necessary to treat disease when fish health and welfare are at risk, and hormones are never used as growth promoters."
MacDonald adds that any procedures that may cause stress, such as handling, are done under anesthesia so the fish are "asleep" to avoid unnecessary distress. Handling events such as welfare assessments are performed only as necessary.
Welfare assessments are carried out by trained staff at many points during the production cycle, and can be performed when handling is occurring anyways, such as for sea lice counts or weight samples.
The ultimate goal of the program?
"We aim to ensure that the welfare of the fish in our care is as high as possible, through every stage of our production, from egg to harvest," she summarizes, adding she would like to see "Improved mortality rates, consistently good welfare, and a high quality product at the end of the production cycle."