Mowi Concrete Barges Built Locally
For the past seven years, Pacific Marine Construction has been providing building services for Mowi Canada West to assist in their operations along the coast. Cory Handyside, Owner/Director of the family owned and operated Campbell River based business, says the firm supplies a variety of products including new concrete feed and accommodation barges, compressor, ensilage, mort and work floats, as well as renovations to existing barges.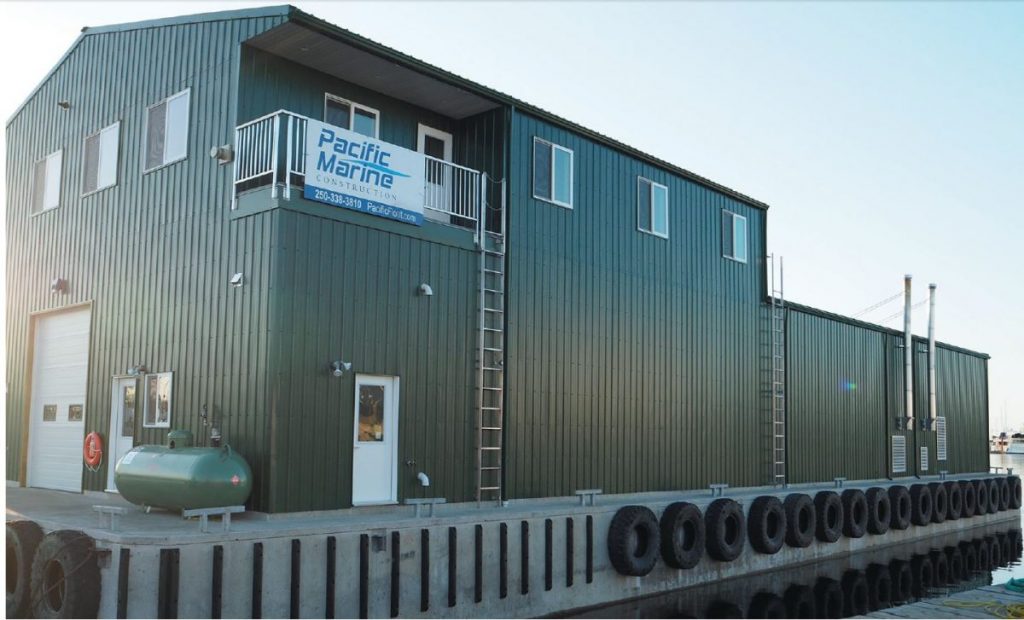 "For decades, concrete barges have been preferred over their steel counterparts for a variety of reasons," Cory says. "Concrete barges are rust proof, slip resistant, and require little to no maintenance. They are stable and virtually unsinkable, making them safer and more cost effective. Unlike steel barges in harsh winter climates where ice buildup is of concern, concrete can easily be salted numerous times without compromising deck integrity."
Started nine years ago, Pacific Marine now has 45 employees including an in-house designer and uses local trades and suppliers. Over 90 percent of the products Pacific Marine Construction builds are for use in the aquaculture industry and are entirely unique and custom built to meet the specific needs of their clients. Their state-of-the-art features and ergonomic designs prove that size, comfort, and innovation are all achievable at sea.
"Each project, no matter the size, is perceived as an opportunity to learn and adapt and inform our future decisions, ensuring that each project is more innovative than the next," Cory says. "By partnering with other leading subcontractors in the industry, Pacific Marine Construction plans on continuing to develop the most advanced and sustainable feed barges in Canada."