Mohammed Ahmed Keeps 'Buy Local' A Mowi Priority
"Buying local" is important to Mowi Canada West, and Category Manager Mohammed Shoaib Ahmed is one of the people whose job it is to make sure that happens when procuring goods and services for the firm.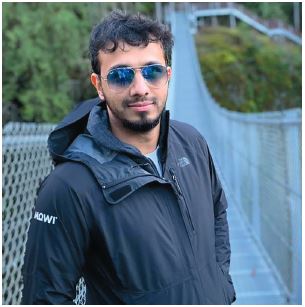 "The procurement team works with everyone on the farms, plants, hatcheries, warehouses, and the office in Campbell River, and we help to strategically source the products and services required by our end-users locally, from vendors across the globe and the First Nations groups," he says.  
A graduate from Vancouver Island University, Mohammed has been with Mowi's Campbell River office for the past six months. Prior to Mowi, he completed a four-month project: a cost-benefit analysis on sustainably managing seafood waste with Grieg Seafood BC Ltd. as part of his MBA internship. It explored the implications of implementing the Norwegian model in BC Mohammed fell in love with Campbell River during his internship. 
"Although I was flexible to move to any part of the country for a job, I wanted to be in this place because of the beauty here, the people, and the lack of road traffic," he says, adding he came from Bangalore, India – with perhaps the worst traffic in the world. 
"After my internship, I got an interview opportunity at Mowi, and I could see the job help me grow in the supply chain industry and also facilitate me to start paying my student debt and support my family back home," he says. "I think I did well at the interview and they liked me! Here I am, doing what I love doing most: procurement." 
He found the graduation ceremony at VIU to be very meaningful. 
"It was a great event! Since the university is located on the traditional territory of the Coast Salish People, we were greeted and congratulated by the elders of the community," he says. "It was refreshing to know some of the history! It was a wonderful ceremony, with a lot of laughter, good food, and got some nice pictures with professors and peers from the class. It would have been a lot nicer if my family had come from India." 
Outside of work, Mohammed loves boxing, which he does a little with friends in Campbell River, some of whom are colleagues from Mowi. He is also a part of community building in town, as an Islamic Centre was formed to bring the Muslim community together. 
"This is really good for people who have come here from all over the globe; people who miss home a little and would like to be connected with their culture," he notes.