Blaine Tremblay Celebrates A Decade With Mowi Canada West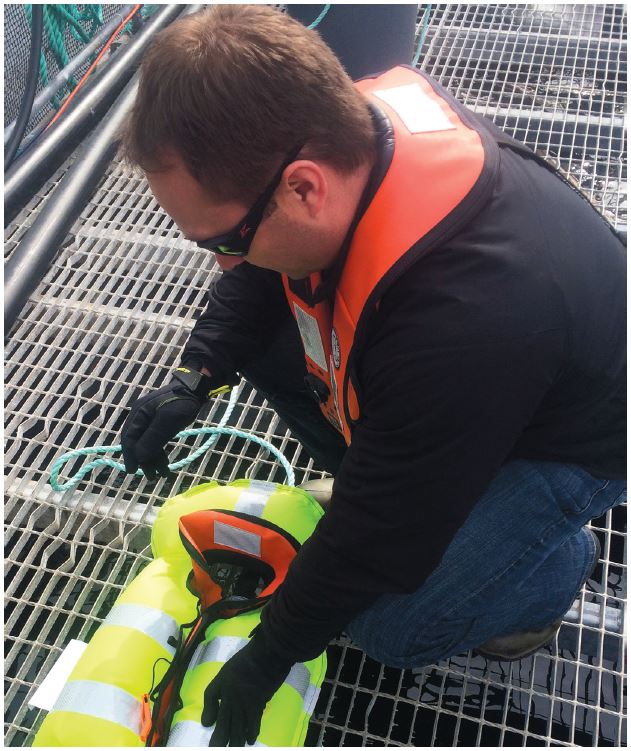 As Blaine Tremblay celebrates 10 years with Mowi Canada West and 25 years in the aquaculture industry, he looks back with a great deal of satisfaction and appreciation.
Blaine, the company's Occupational Health and Safety Manager, has made some major contributions that have truly made a difference in improving health and safety procedures, including the introduction of the BrainSafe program and DATS system. BrainSafe has been a key in transforming the safety program to a high-performing safety management system that is highly recognized globally in other business units, and by WorkSafeBC.
BrainSafe's training program leads the employee safety culture "and provides tools and resources to new and experienced people to stay safe and take greater control of their own safety," Blaine notes. "Our employees use BrainSafe tools and behaviours every day using eye check and eye observe books."
The DATS system allows employees to create many safety program functions that replace the need to have multiple software management programs.
"Our new system in DATS support online investigation documents, safety meetings, inspections, drill reports and much more," he adds. "All this can be managed in the software program and further allows the Safety department to help our teams out in the field. I don't know what we would have done without this program during Covid-19."
Blaine was born and raised in Campbell River and works out of the Campbell River head office, but he also travels weekly to all of the company's operations.
He has been in the aquaculture industry since graduating from high school, working full time at a local salmon processing plant doing almost everything related to processing, from cleaning fish to packing lines, and operating forklifts and cranes.
Blaine worked his way up to Plant Manager at Stolt Sea Farms Englewood Packing division in Beaver Cove, and joined Mowi Canada West in 2010 as Health and Safety Manager at the Port Hardy Processing Plant.
"That was an exciting new role for me that opened a new door of exciting opportunities and challenges working with the excellent team in Port Hardy," Blaine says, adding the skill set he had accumulated helped accelerate many safety improvements at the facility.
"This new position felt very rewarding to me personally, as I enjoy helping others and value everyone's safety commitment to go home safe, every single day," he adds. "In my first year with Mowi, I worked with the Processing Plant to achieve an awesome new record of zero LTIs due to an excellent safety management system assembled at the plant."
Next was learning and supporting freshwater and saltwater operations and everything in between, then moving into his current role as Occupational Health and Safety Manager for the entire Mowi Canada West. He has also obtained professional certification in health and safety at the BC Institute of Technology (BCIT).
His main responsibilities include ensuring legal compliance with governing authorities, completing safety audits and supportive safety visits to Mowi work sites, overseeing investigations in the company to ensure causes and actions to prevent reoccurrence of injuries is achieved, and writing policies, procedures, safe work practices and risk assessments.
Blaine also helped Mowi Canada West complete its OSSE journey and certification standard for its health and safety program, which is one of the most disciplined audits in all manufacturing industry.
"This has been a critical advancement in our program that has reflected well during the current pandemic to stay working together, but apart," he notes. "It is a highly recognized safety program internally and externally."
Blaine notes that other highlights include traveling globally to help other teams with safety performance, and helping Mowi Canada West achieve the best safety performance and claims cost premiums in the industry. "Teamwork is everything when it comes to Health and Safety and Mowi leads by this example in so many ways. I'm very proud to be part of the Mowi family!"