She's Walking Across Canada, Virtually, In Her Home Office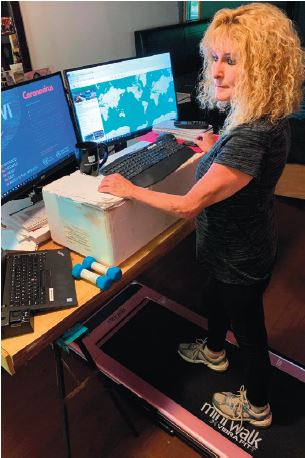 Some Mowi Canada West employees drive to work. Some walk.
Michelle Larochelle, Claims and Benefits Coordinator, literally walks at work. On April 3, utilizing a lightweight Mini Walk treadmill, she started walking an average of 25 kilometers each day of work.
Michelle has been charting her progress on Google Maps, and starting from her home in Black Creek where she has been working from since March 13, she virtually walked to Port Hardy, virtually took the ferry to Prince Rupert, and started a virtual walk across the country.
"I was telling my Mom about it, and she suggested I pick a destination. That intrigued me, so I chose a journey," Michelle shares. "My goal is to walk across Canada to St. John's Newfoundland. I anticipate this will take me until January 2021 if I continue on schedule."
Friends and staff are enthusiastic and are encouraged about Michelle's trek.
"I post on my Facebook page when I arrive at destinations, and some people actually thought I was physically walking the journey, not virtually," she laughs, adding she's making a map of her journey. "Some comments from others have been that they are from the spot I arrive, or they enjoyed their time there. I have some virtual visits planned with people enroute who live in the places I will be virtually arriving at."
Michelle's journey has been inspiring to others Mowi Canada West employees working in self-isolation, with her unique, fun and challenging idea. She has been helping a large number of staff in communities that have been locked down, resulting in some temporary lay-offs.
Michelle, who has been with the company for two years, assists with WorkSafe BC claims and return to work plans, short and long-term disability claims, and extended health benefit programs.
"I traveled to Klemtu to assist our First Nations in enrolling for extended Health Benefits as well as our company pension plan," she notes. "When Klemtu went on lockdown, 50 of our employees there were laid off.  I assisted over half of them by filing their Employment Insurance claims with their permission on their behalf, and I did the same for our Alert Bay employees."
She also manages the wellness and kids camp submissions, long-term service awards, helps employees enroll in the company's pension and RRSP plans, and is involved in helping organize numerous other events and activities that benefit staff members.
"I am currently trying to source out some training for managers in regards to recognizing the signs of mental health before a person reaches the need to go off work," she says. "I've been working on developing a return to work program/policy, along with a claims/disability management tracking system through our DATS Program."
During the COVID 19 pandemic, Michelle has been tracking and assisting all employees who need to go off for various reasons and assisting with short-term disability forms, or directing them to the appropriate source.
All while she walks across Canada, virtually, from Black Creek on Vancouver Island!