Quatsino First Nation Crewboat Ferrying Mowi Workers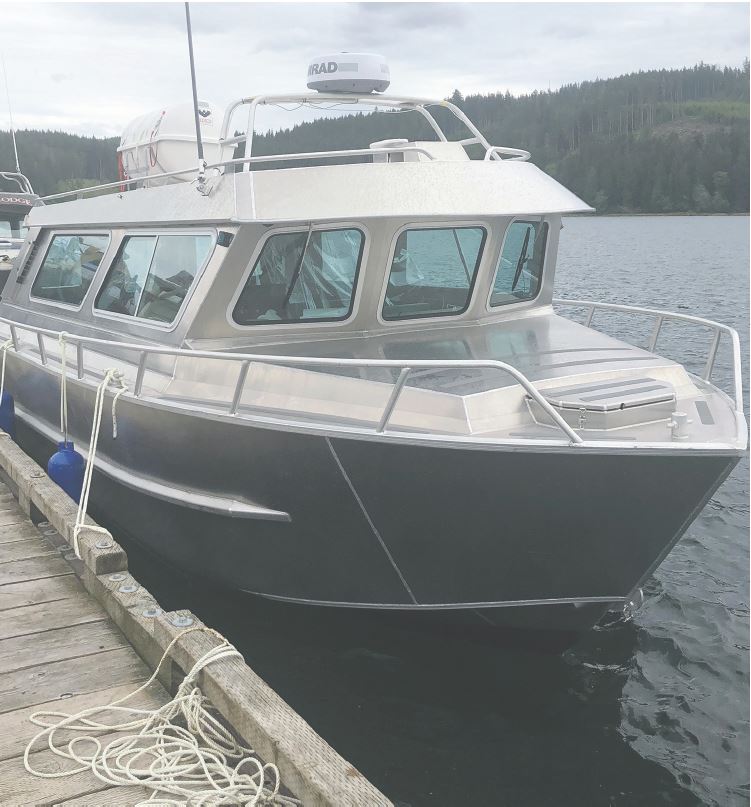 Mowi Canada West team members are arriving to their sites in the Quatsino area in style – aboard a new crewboat owned by Quatsino First Nation.
James Redford, Director of Lands and Resources for the Quatsino First Nation, said that while the Nation had a patrol boat to collect environment data, the new crewboat will allow the ability to invite the community (elders, children, and leadership) in a safe and fun way to relearn about and explore their territory.
"The Nation was moved in the late 1970s and many of the community members moved away from their waters and lost their ability to connect and explore their territory waters," Redford states. "The new crewboat is hoped to be used as a marine school bus that will allow the Quatsino people to reconnect to living on the water."
The vessel, which doesn't yet have an official name, is a 9.3 metre (just over 30 feet) 3050 Discovery built by Lifetimer, equipped with twin 300 horsepower Yamaha engines that can reach a top speed of 40 knots and a cruising speed of 23 knots.
Tina Gonsky has been Mowi's Indigenous Relationship Manager since the position opened two years ago, and notes utilizing the crewboat was a collaborative idea between herself, Mowi's Quatsino Area Production Manager Gerry Burry, and the Quatsino Economic Development Corporation.
"Mowi continuously looks for ways to provide business opportunities for our Nation partners to service our operations in their territories," Gonsky states. "This strengthens our partnership and provides economic opportunities for the Nations while working in their traditional territories."
The vessel departs from Coal Harbour daily and brings crew to and from each of Mowi's four sites: Mahatta East, Mahatta West, Monday Rock, and Koskimo. The operations crew also rides the vessel, and reside at Koskimo Bay.
"The crew vessel project has been underway for a couple of years and we are very pleased to finally get if off the ground and provide water taxi service in Quatsino," says Burry. "Everyone at Mowi and Quatsino First Nation seems quite happy with the final result and it is always nice to ride in a shiny new comfortable vessel.
"I look forward to continued development of our great relationship with Quatsino First Nation and utilize this water taxi service for many years to come," he adds.