Sharon DeDominicis Retires After 20 Years With Mowi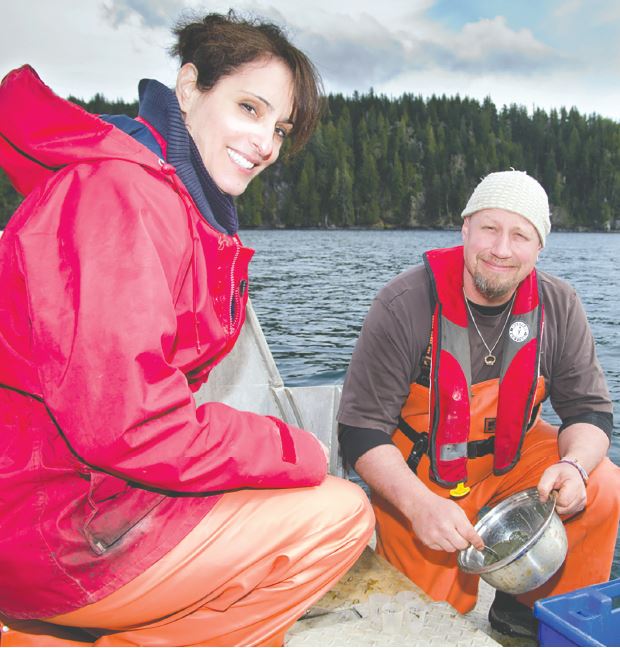 After an incredible 20 years with Mowi Canada West, Sharon DeDominicis, the Director of Regulatory Compliance and Certification, has decided to move into retirement.
As a registered professional biologist, Sharon (RPBio, MBA) has led the company on issues related to environmental sustainability and certification. It has been her responsibility to engage with the science community, regulators, ENGO's, certification bodies and First Nation communities to further the understanding of the environmental footprint of aquaculture, as well as how to improve aquaculture management.
Sharon started with Mowi three months after the Environmental Department started in 2000.
"Clare Backman hired me to work with Dr. Kenn Brooks from Port Townsend, Washington to monitor fish farms and the surrounding environment," she recalls. "As you can imagine, being one of the first to monitor, research and understand a brand new sector is a dream come true for any biologist.
"Since that time our little department has grown to nine people, millions of data points have been collected, we have a solid understanding of our environmental footprint, we've shifted production to the most sustainable locations, added many new farms to our business unit, developed relationships with our First Nations partners, developed certification programs, expanded into a GIS database system and worked our way through many new laws/regulations and political challenges. We were the first company in North America to achieve the challenging Aquaculture Stewardship Council (ASC) standard at one of our sites. Now the culture of meeting the tough sustainability requirements of external standards like ASC, has become embedded in the company."
Sharon notes that the science is so new, they are still discovering new species, including a new worm found in Klemtu.
Her job has enabled her to travel throughout the world, to Mowi business units in Norway, Scotland, Ireland and Newfoundland, as well as to New Zealand, Germany, Austria, Switzerland and the USA,. She has also been able to study First Nation culture in New Zealand and in Canada, including making drums in Klemtu for the 20th anniversary with the Kitasoo Xai'xais, dancing in the Big House and staying at Spirit Bear Lodge.
Particularly rewarding was being able to see new sites at Hope Island and Klemtu.  Also,  following six years of engagement with Canadian environmental groups, culminating in collaboration on sea lice monitoring and research.
"Seeing sustainability objectives of advanced RAS (Dalrymple and Big Tree Creek) come to fruition, along with marine reconstruction of a reef at Englewood and eelgrass beds in Klemtu, and later solar panels being installed at Dalrymple," she states, listing other career highlights. "Getting to know the Chiefs of the Broughton Nations and striking the Broughton Agreement; respecting the wishes of the Nations while providing the opportunity for their people to monitor our sites."
Sharon points out that over the past 20 years the Environmental Performance and Certification Department has become fully integrated into Mowi's operations.
"Caring for the planet is one of the guiding principles of our company in leading the Blue Revolution," she says. "I'm leaving behind an incredible team of people within the Environmental Performance and Certification Department, the Senior Management Team, and throughout Mowi"
Sharon is grateful to everyone for their help and friendship over the years.
"I wish all of you the very best and hope that each of you has an experience at Mowi that is as wonderful as mine has been," she says.
As to what's next for her, she adds: "I am sure that it will contain many of you, my family, friends, horse and dog."