Riley McFadyen Marks Two Decades With Mowi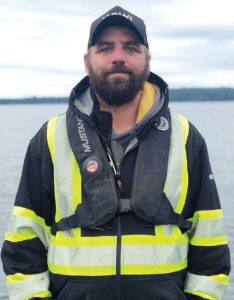 August 3 will be a memorable day for Riley McFadyen, as the Port Hardy Area Production Manager celebrates his 20th year with Mowi Canada West.
Riley has played a major role in many company projects, including designing hanging feed spinners and implementing a new system of poles and dome-style top nets in the Port Hardy area.
"The company is completely different," he observes. "20 years ago it used to be all manual labour, and now it is very safety focused, highly professional, highly technological and has many professional people involved in achieving great results and caring for the environment."
Riley says there have been numerous highlights during his two decades with the firm, including working with local communities and First Nation partners, travelling to Scotland and Tasmania, and being part of a production management team that strives to drive the company and the industry forward in a safe, responsible and sustainable manner.
"The trips to Scotland and Tasmania were both for the purpose of information sharing and gathering information about different methods of sea lice treatment," he notes. "The spinner project is an effort to reduce damage to our stocks by removing as much floating equipment from the pens as possible. We removed the floating spinners and created a bracket that allows them to be suspended in the air and removes the possibility of fish jumping into and damaging themselves."
Riley adds that the bird net poles were implemented for the same reason as the spinner, as the removal of floating equipment to protect fish from jumping was causing damage to the fish themselves.
"Recently I've been working closely with our First Nation partners on the North island to find ways that they can provide services to Mowi and create business opportunities within the partnerships," he says.
Riley worked closely with Kitasoo Xai'xais Nation in Klemtu on new salmon farm locations in their territory, Earth Day, annual basketball tournaments, and other community events. Reflecting on his time working in Klemtu, Riley says "I spent a lot of one on one time with the late Hereditary Chief Archie Robinson, discussing the future of the Salmon farming and listening to his amazing stories of the past."
"I would just like to thank the company and everyone I've worked with over the last 20 years," he says.