For These Four, Working For Mowi Really Is Like Family
When Casey, Darrell and Jerry Block and Brandon Barton say that employees at Mowi Canada West are like family, they aren't kidding.
Working for the company is a true family affair for the Block brothers and cousin Brandon Barton. Darrell has been with Mowi for five months, Casey for three years, Jerry for seven years and Brandon for the past five years. They don't all work in the same location, but they all like the fact they're able to work for the same company, and it's drawn them closer together as a family.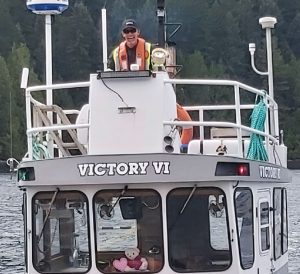 Other people within the company think it's great that the family members can work together. "I only ever hear people complimenting myself and my brothers on our work ethic and dependability, and some office higher-ups have told me they're super happy to have us all work here," Casey notes.
"Sometimes people crack a reply when they see any of us together like, 'Here comes trouble', or 'double trouble', and they're smiling, of course. People think it's pretty great having more of our family work here. It reflects well on the company, and people say it must be a great place to work if so many of us work here."
Casey is a 150-ton captain and runs the Victory VI tugboat for Mowi, which primarily tows the company's hydro de-licing barge called the Freedom 65. He has been with Mowi for just over three years.
"While on the barge I operate the equipment on board, and also maintain the equipment, doing generator oil changes, regular greasing of cranes and capstans, cleaning up the barge, painting, and fixing and replacing things as needed," he says.
The barge is kept busy, utilizing the cranes and capstans and moving different types of freight out to the sites, as well as removing and re-installing can-buoys. "I also use the tug to tow company infrastructure around, like floats, sheds, pen system pieces, and general towing as needed," he says.
"Mowi is a great company to work for, and I am proud and happy that me and my brothers all have great positions within a great company," he notes. "Mowi is very understanding and values families and family time.
"Unfortunately we do not work physically together and rarely if ever see each other at work, since we all play different roles within the company," he adds. "But the result of us all working together on our personal life has been great."
With Darrell being landbased and Jerry and Casey working an 8-to-6 shift, it enables them to see a lot more of each other and their families overall. "That means more full family meals at mom and dad's for sure," he says. "It's awesome, and it makes for a good debate at times, having different views on things within the company.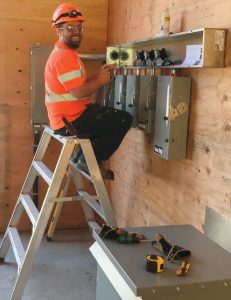 All in all, it's really great. We all have great employment with an awesome balance between work and home life." Cousin Brandon Barton is Fresh Water Projects Electrical Supervisor at Dalrymple and Big Tree Creek hatcheries, although he has also worked at other fresh water sites like Fresh Water Farms, Glacial Creek and Ocean Falls. He started with Mowi in August, 2015, originally to help with the large expansion projects at Dalrymple and Big Tree Creek. Along with another electrician, Trygg Carlson, he takes care of the electrical side of projects being performed by the Fresh Water Projects Crew, including some design, ordering, permitting and installing.
"It's been great having Darrell join the Mowi team at Dalrymple," he says. "He has helped out a lot, tackling the maintenance portion of the electrical. I think it's been a great fit for everyone. It is the second time we have worked alongside each other, as in our late teens and early 20's, we worked together on the TimberWest Sawmill's student clean-up crew."
Brandon chuckles when thinking about the impact on family life. "It hasn't changed much, other than giving us another thing to talk about when we golf together," he laughs. "Each of our parents think it's great. Our dads used to commercial fish alongside each other in the 1980's and 90's, and we're carrying that on in a bit of a different way."
Darrell Block is a Red Seal Industrial Electrician at Dalrymple Hatchery, and is the site's maintenance electrician. He has been in the position for five months now.
" I do all of the corrective and preventative electrical maintenance at the hatchery as well as assisting our millwright with some mechanical maintenance," he explains. "A normal work day will include troubleshooting faults and failed equipment, installing new equipment, and researching/ordering parts."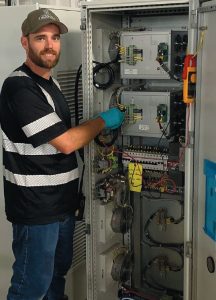 Darrell and Brandon worked at the Elk Falls sawmill for four years, so they've enjoyed being able to work together again. "It definitely made my transition to working at Mowi Brandon Barton Jerry Block easier, having a close family member as one of my supervisors," he notes. "I give him a hard time every now and then to lighten the mood with a comment like 'Whatever you say, boss', etc."
Good-natured ribbing also comes with the territory, as Darrell observes, " Most people think it is pretty cool that we get to work together. I have gotten a few comments all in fun like 'I wonder how you got this job', and 'must be nice having your cousin get you a job'," he laughs. " Brandon and I have always been close so working together is easy for us as we get along so well," Darrell adds. "The biggest downside is we can't find the time to golf together anymore because we are on slightly different shifts!"
Jerry Block is Assistant Manager at Bull Harbour, and has been in that position most of his career, which started in February, 2003. His responsibilities include plankton/water quality control, and knowing how and when to implement the systems that are in place to keep fish alive and happy during harmful plankton and poor water quality. "A big part of this is making sure we have clean nets at all times, and we are all currently learning more about the effects of hydroids and jelly fish on our salmon," he observes. "I also make sure all equipment on site is maintained and working well at all times and make arrangements for contractors to come to site as needed, this includes any and all issues whether it be for safety concerns that need to be addressed or just a simple scheduled vessel maintenance day.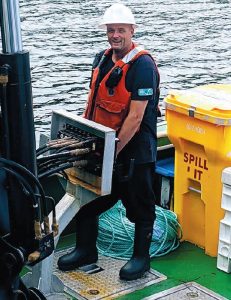 Safety has always been his priority. "I ensure all new and current staff are trained properly and daily, and make sure myself and staff have adequate training and courses to do our jobs safely and correctly," he states. "I make sure everyone on site is being the safest they can be at all times."
He doesn't get to work directly with other family members due to him being at Bull Harbour, but he did say, "I did get to spend a very short amount of time with my brother Casey when he arrived at Bull Harbour late one evening to tow some bird stands early the next morning. It's always good to see family, even for a short visit!"
He would welcome the opportunity to work closer together within the company in the future. "My friends and family think it's good we all work for Mowi, and who knows? Maybe we'll have the chance to work together in the future," says Jerry. "That would be awesome, as it's always good spending time with family and learning from one another."