Two Port Hardy Workers Celebrate 25 Years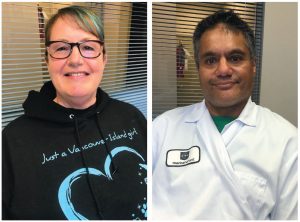 Judy Andrews and John Robichaud have worked at the Port Hardy Processing Plant for Mowi Canada West for over half a century, combined.
Yes, 25 years each of service, and that's a milestone to celebrate, along with their co-workers, both of whom they call "family."
Judy started as a processor before becoming a supervisor.
Her days start at 6 a.m., as she "takes the temperature of all employees as they enter the workplace to ensure we are keeping a healthy workplace for everyone."
An hour later, she starts in the kitchen to prepare snacks for employees, then prepares hot lunches.
"I prepare lunches for 30-40 employees every day," she notes. "I enjoy what I do, but most of all I love working with the people. Some of the employees I have worked with for many years and are like family. It's a great place to work.
"The best part of working at the plant for me is working with the fantastic people. And it always feels good to know someone cares," she adds. "Over the years we have had many fun times at the plant and have many memories that will last a lifetime. It's no doubt I think back through the years and can't help but smile as it has been a wonderful experience for me."
The plant has changed a lot over the 25 years she has been with the company.
"When I first started, every process was very manual, and we used a lot of people," she recalls. "Today we have a lot of automation which uses fewer people and is much more ergonomically friendly than a manual process."
John, or 'Robo' as coworkers call him, started on the processing floor in November 1994.
"I did some knife sharpening and dock, and I am currently working in styro," he says. "This is where we load tracks and fill lid dispensers to send boxes to the processing floor."
Robo's day starts by greeting everyone on his radio "with a radio check to make sure it is working to start everyone's day off with a smile," he adds.
He has also seen many changes over the years in terms of equipment automation, which has made the plant more efficient.
"The best part of working at the plant is the people," he notes. "We have become a family."