Camp Catering Services A Recipe For Success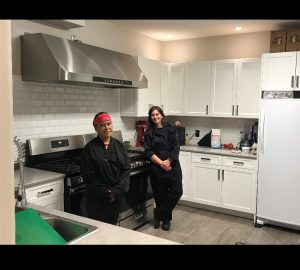 Not only is Canada Camps Services (CCS) cooking up tasty meals for Mowi Canada West workers at their Port Hardy base, but it is part of a recipe for success for the k'awat'si Economic Development Corporation (KEDC).
Cyrus Singh, CEO of KEDC, notes CCS was created to leverage the food and beverage management capacity and capabilities under the KEDC umbrella to create jobs and growth for the First Nation.
"Canada Camps Services plays a pivotal new role on the North Island, capturing land and marine opportunities, providing unparalleled levels of cooking and cleaning services to new and existing clients on the North Island and all over Vancouver Island," notes Cyrus.
Remote Services Manager Robert Robinson has over 15 years' experience managing and operating camps, ranging in size from 50-2,500 throughout Canada and B.C.. Utilizing his experience and other team members backgrounds were key to developing the idea.
"We currently are servicing four remote camps in the territories and are in the process of expanding across Vancouver Island," Cyrus notes. "We have around 15 employees at this time that work directly for Canada Camp Services.
"The future is bright for Canada Camp Services with expansion plans throughout the GNN Territories and Vancouver Island. We have a motivated team that is excited to provide remote services on Vancouver Island and all over British Columbia."
Rob McLaughlin, Operations Coordinator for Mowi in Port Hardy, adds that the CSS team has formed great relationships with all crew, which now refers to chef Manon Deschenes as "Momma Manon", as she makes sure all crew is taken care of and well fed.
"Having the camp cook and cleaning service has been a really positive experience for myself and the crew," McLaughlin says. "Working with Robert Robinson, food and beverage manager, along with Chef Manon Deschenes and her staff (Chef Carlton 'Carley' Jeffrey Jack, Amanda Lee and Rachel Harry) has been fantastic. They've been very receptive to the crews' varied palates and have continued to adapt and adjust the menu accordingly.
"All in all, it's a very positive partnership," McLaughlin adds.