Mowi Safety Week a great success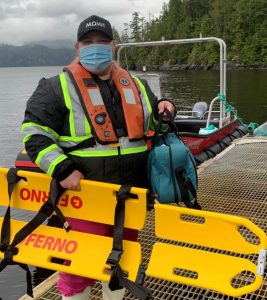 Mowi's Global Safety Week ran from October 26 to October 30. Each day of the week was filled with opportunities to learn, engage and refresh knowledge about safety.  Each morning a Senior Management team member started the day off with a Safety commitment message, followed by a One Point Lesson on a critical topic. These would form the basis for each site's morning
tool box talk, covering topics from Fire Safety to Life Saving Rules.
Each day also included two Safety Quizzes. These were held using the Kahoot platform and allowed employees from across the company to participate in real time. This feature really brought out their competitive side and there were some close finishes that required quick reactions as well as quick thinking.  More than one quiz was won with full marks, a sign that the Mowi team are well versed in safety knowledge.
Throughout the week there were sessions on specific Safety topics. They were hosted by a range of experts in their fields and by safety specialists from within Mowi. These sessions were well attended by a virtual audience tuning in from sites across all parts of the business. All attendees were treated to informative and in-depth discussions on each topic with some great Q&A sessions afterwards too.
For Mowi Canada West's Health and Safety Team of Blaine Tremblay and Dan Pattison, this week has been the result of a lot of planning and hard work. Blaine was very proud with how the week went: "This was the first time Mowi has put together a Global Safety event like this. From the beginning Dan and I saw this as an opportunity to ensure that a clear message on safety is communicated to all Mowi employees. We needed a lot of help for it to work and I am very proud of how everyone in Mowi Canada West has responded. From the people who took part so enthusiastically to the Safety Team members who stepped up with some great presentations, it has been a real team effort. A shout out to Graham Byatt and Mike Strasdine for their BrainSafe presentations and ongoing  commitment with their health and safety committees. The commitment and team work to health and safety at Mowi is very strong, and safety week highlighted this extremely well.  Thank you."