John Ilett Clocks 25 Years With Company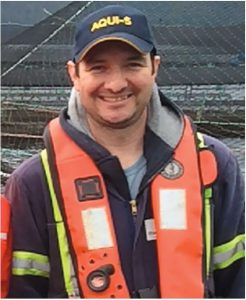 John Ilett has many fine memories from his 25 years working with Mowi Canada West.
They include working with a lot of passionate and dedicated people, and winning two Sterling Cups after he implemented a new cyclical feeding system.
"In late 2010 I worked in Norway for two months," says John, the Site Manager at Mahatta West in the Quatsino area. "This is where I saw cyclical feeding (feed slowly all day) for the first time."
Up to that point, Canada's feeding strategy was to feed once per day at a fast rate.
"Upon returning, I implemented the cyclical feeding at my site with amazing results allowing me to win two Sterling Cups. Today cyclical feeding is the company's main feeding strategy which all sea sites follow.
"Cyclical feeding was a game changer for Canada when looking at conversion and growth rates."
John notes he has worked for Mowi for over half of his life, which calculates to: 300 months, 1,303 weeks, 9,125 days, 219,000 hours or 13,140,000 minutes.
"I have worked in each production area over my career and I feel Quatsino has some of the most beautiful scenery with a peaceful vibe," he states. "Although a lot of my day is doing administration, I still make time each day to work the site. Be it feeding, mort collection or lice counts, I'm happy I have a position that lets me work outside in this beautiful environment."
Other career highlights include having the opportunity to travel to other Business Unit's, witnessing the well documented 'eagle versus octopus' event, and "being lucky enough to make this job a career and, after 25 years, still loving what I do."