Full Speed Ahead for PHPP With Parsons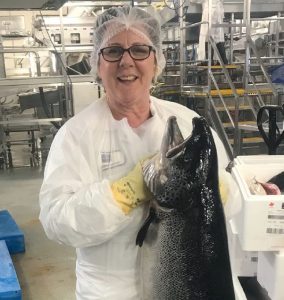 A familiar face has a new assignment at Mowi Canada West's Port Hardy Processing
Plant.
Janet Parsons was named Plant Manager in September, after serving as Office Manager since 2008. Janet started in the salmon farming industry in 1999 on the processing floor cutting and packing fish at Englewood Packing, which was a joint venture with Stolt Sea Farms. She then worked in the shipping department and the office before joining Mowi in 2008.
"I was surprised to learn that I was the first female Plant Manager in Mowi," says Janet. "I was very excited when I was offered the position, and I am looking forward to the challenges and opportunities ahead."
PHPP is highly automated and efficient, utilizing gutting machines, packing lines and robotic palletizing systems. It has 76 employees, processing up to five days per week, and over 40,000 fish each day.
"I have been involved in the industry for over 20 years," she notes. "I have taken any training available and have moved into any advancement opportunities that have been offered to me, including my involvement in union negotiations, Human Resources, Capital Planning and annual budget development.
"Port Hardy Processing plant has always had a lean focus over the years, and that has helped me develop myself in many different areas of the process."
Janet observes that during her time as manager, "So far, the feedback has been nothing but positive. Due to my length of service and working with many of the same staff over the years, I feel they are very excited to be working with me."